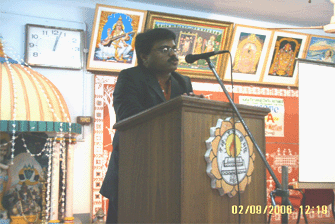 Mr. Ari was invited to be the Chief Guest in the first PTA General Body Meeting of Kola Perumal Chetty Vaishnav Senior Secondary School, an ISO 9001:2001 Certified Institution, Arumbakkam, Chennai on 2nd September, 2006 to make a special lecture to the students, teachers and parents.

Mr. Ari delivered a 1-hour speech on "Unconditional Love towards Children". In his speech, he underlined the points that lead to more pressure on students inadvertently due to certain actions from parents, society and the school. He also insisted parents and teachers to take care of the students' small needs like hugging, praise for good marks, emotional bonding in addition to performance in the exams and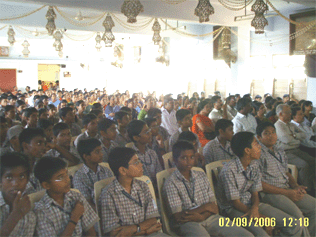 he stressed the point that scoring high marks in the exam alone shall not be the single most priority in a child's life. He suggested to spare time to the children to have open talk with them to understand their needs. He gave tips in how to find time to spend with children even when both parents are working. At the end of his speech, a short film, made on the "after-effects of exam results" named "NODIGALIL" was screened and Mr. Ari asked the students to present their views on the theme of the film. One girl student and a boy student expressed their views on the film and Mr. Ari congratulated the students for their positive views about the society, their school and how they will face the situation if they were in the same situation depicted in the film. Finally, the school management, principal, students and the parents thanked Mr. Ari for his riveting 1-hour very off beat lecture that was very thought-provoking to the parents, teachers and students as well.